Blackfeet Nation – Montana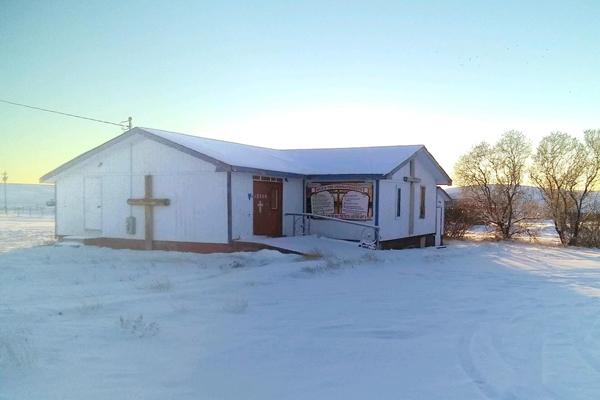 (Mark 16:15 "Go ye into all the world, and preach the gospel to every creature.") 
Reverend Karen F. Vielle a descendent of the Gros Ventre Tribe in Montana lived in the San Francisco Bay Area for the greater part of her life. She has a B.S. Degree in Physical Therapy and has worked as a Physical Therapist for twenty-five (25) years. 
In the summer of 1982 Karen asked the Lord Jesus Christ into her heart and life where after her conversion to Christianity her initial ministry was to the homeless population in the streets of Oakland and San Francisco California. Where she witnessed the mighty hand of God moving in the supernatural, where through the demonstration and manifest power of God she witnessed miracles and healing. On October 29, 2012, Karen was ordained through "All Nations International Ministries" that was founded by the late Reverend Agnes I. Numer.
 Mr. Leon L. Vielle: Na-to-ah-wa-pii (Holy Speaker) a member of the Blackfeet Tribe and Nation located in Montana where he lived for the greater part of his life with the exception of his tour of duty in the United States Marine Corps in January of 1977 to his honorable discharge in May of 1980. Leon worked in the timber harvesting and forest products Industry, he has an AA Degree in Construction Technology, with an emphasis on designing and building log homes. Since1976 Leon worked as a seasonal Wildland Firefighter responding to wildfires, natural and man-caused disasters throughout the United States and Alaska.
 On March 3rd, 1983, while reading a Bible in a jail cell Leon asked Jesus Christ into his heart and life as his Savior and Lord where from that day he has witnessed the saving grace and mighty hand of God moving in and through his life.
 Today, Rev. Karen Vielle and her husband Leon have dedicated their lives toward sharing the Gospel and the love of Jesus Christ through ministry and through the development toward opening a Ministry and Fellowship on the Blackfeet Indian Reservation in Montana under the Ministry titled, "Eagle Plume Ministry".
 As the Lord leads, they would be honored to come and worship and share the Gospel with you, your church or gathering under the Anointing of the Holy Ghost and Fire. Also share the vision the Lord has given them concerning their ministry work on the Blackfeet Nation located in Montana.