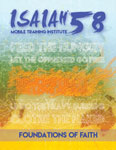 FOUNDATIONS OF FAITH
In-depth and intimate look at our life in Christ, excellent for new believers and for review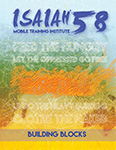 BUILDING BLOCKS
provides essential Spiritual Leadership and Discipleship tools to learn to flow by God's Spirit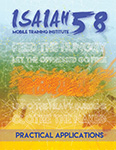 PRACTICAL APPLICATION
preventative health care, hygiene, water purification, sustainable agriculture, animal husbandry
ISAIAH 58 MOBILE TRAINING INSTITUTE,
TRAINING INDIVIDUALS TO HEAR AND OBEY GOD'S VOICE
As we watch current events unfold before us, it is clear that life as we know it is changing. We must send the Gospel where we cannot go.
The Gospel must be
efficient in its mobility
effective in its impartation
accurate in Biblical Truth
and available to those with little to no access to Biblical resources.
Isaiah 58 Mobile Training Institute was designed with these aspects in mind.
It is flexible for large settings such conferences and seminars or for smaller intimate gatherings such as bible studies and one-on-one training.

Foundations of Faith
Building Blocks

Agriculture
Animal Husbandry
Sanitation

As the time for Jesus' return draws near, there is an urgency to spread the Gospel of the Kingdom as quickly as possible while maintaining His Spirit, authenticity and power. Written in simple terms, this training fits any schedule, learning pace and teaching skill.
Foundations of Faith is an excellent tool for new believers, for review, and also for recentering ourselves in Him. Starting from "Who is God" all the way to "Go Make Disciples", Foundations of Faith provides the in-depth and intimate look at our life in Christ. Foundations of Faith includes a DVD with two corresponding short videos, "Creation Genesis" and "What Color is God?"
Building Blocks starts with the "next step" and continues to "Ezekiel's Wheel," learning to flow by God's Spirit. This manual provides essential Spiritual Leadership and Discipleship tools with a Biblical viewpoint. Building Blocks walks through elements of the Christian life such as:
Conflict Revolution
Purity in Leadership
Spiritual Warfare
Praise and Worship
as well Biblical truths that allow God's power to change our lives.
The Isaiah 58 Mobile Training Institute curriculum is now available on Amazon.
Contact us if you would like for someone from All Nations International to come and teach the Isaiah 58 Mobile Training Institute course or train others how to teach the course.
If you or someone you know would like to commit to translating the curriculum, please contact us. We are committed to seeing the Gospel in every nation, and you could be part of bringing His kingdom to "the uttermost parts of the earth."
Isaiah 58 Mobile Training Institute is available online!
Click below to take these courses online!