Hello precious family!
It's been a busy few weeks, so let's get jump right into things. As many of you know, last month (September) was our 58 for 58 Pastor's Conference and Anniversary celebration. We had a wonderful time, and would like to thank those who came out to support us in this event. It was three days and four nights of God's incredible presence, fellowship with our fellow brethren and laborers in Christ and a recharging of His mandate in our lives. It was a time of reconnecting, learning, sharing, growing and excitement as we shared with our family how we were continuing to carry the same vision God has always given us, in new ways.
Sometimes, in order to know where one is going in the future, it's good to remember where one is coming from. It's good to examine the roots of the tree, check its health, see how deep the roots go and remind oneself the source of the tree's strength. In the Vision Casting, Teresa Skinner reacquainted us with Isaiah 58, and shared something the Lord had revealed to her about Isaiah 58, a portion that still not been done:
12 Those from among you
Shall build the old waste places;
You shall raise up the foundations of many generations;
And you shall be called the Repairer of the Breach,
The Restorer of Streets to Dwell In.
"Those from among you shall build the old waste places;" How powerful! The Lord is begin to guide us in what this means.
We heard from our guests how Isaiah 58 has helped their communities and ministries across the globe. During one session, Gordon spoke on the Principles of Isaiah 58 in God's Kingdom, and how that translates in what we, as ministries and as a family, do. Our delegate from India shared on how the Lord used Agnes to infuse him with Isaiah 58, and how by applying those principles, he has been able to help the people in his village and surrounding villages. Hanna Elloso, missionary from the Philippines, shared on how her relationship with Agnes and learning Isaiah 58 has helped survive in her work as a missionary, through cleanliness and sanitation, cooking and work.
We had a "Meet The Board" session, where our family was able to be introduced to the members of the All Nations International Board of Directors. They each shared a little of their testimonies, connection to the ministry, their role and qualifications.
After some housekeeping issues were addressed, Teresa Skinner shared to our family what exactly has been going on since Agnes went home with the Lord. Some of these things were the special curriculum being created by Gordon and Teresa (which we talked about in our post several months ago), the Casaq The Eagle play, Train to Gain Discipleship program (which we'll talk about a little later), A Holy Worship Symposium (We will do a post on this on day, it was amazing), working with the youth of the Antelope Valley, working overseas, and so much more . There was an "open mic" session, where those attending the conference could ask questions regarding what was talked about by the various board members.
One very exciting announcement made by board member John Bell, was about the road that is on our property. Before we go into the announcement, we'll talk about the cause for the announcement. John Bell presented to the audience the vision for the property the ministry is located on now, a project aptly named "A Village of All Nations".  The Village will simulate environments and structures similar to the country or area in which a person in training desires to go. It will be a retreat center as well as a training center, both in-house and third party trainers. But there have been some problems with moving forward with this project, and the biggest was our road, or lack of one. A dirt road runs throughout the property, but it was deemed insufficient, seeing that it lacked basic road base.
However, John had received a call (the day before he spoke at the conference), informing him that the road was approved and any plan for the Village could be put into motion. The vision of the "Village" has been a desire since our ministry relocation in 2004, but various issues have made it difficult to move forward. So when John told us the great news, load cheers and much clapping erupted in our home as the realization of John's words finally sank in. It was a long awaited blessing, to say the least!
During our conference, we made sure to connect the past of the ministry to the present, to give an idea of the view of the future. One way we did this was by having discussion panel with three of our young people: Letty Mejia, Rebekah Minter and Ashley Flores. What was interesting about the panel was that each person represented different time periods of the ministry: the beginning, midway and the future. The ladies discussed what the ministry has been doing in the area of the youth, and some different programs All Nations has been doing to help the youth. One program is the Train to Gain program. This program will be familiar to many of you who have been with us for some time, because it's what we've always done, but now has a name. The basis of the program is to take youth who need help, whether it is severe or not, teach them basic life skills and strengthen the areas in which they're weak, all using the Isaiah 58 principle of working in the natural and producing in the spiritual. All three of our young women have either gone or are currently going through the program themselves, so they were able to share in what ways the program has helped them.
As our delegates for the youth, they helped connect the audience from the past (which many of our members remember) to what All Nations is doing in the present. An interesting thing Letty talked about was how 14 years ago (around the same time as the Pastor's Conference), there was a intercessory burden for the youth. After that time, a group of youth came up from Los Angeles, and that is Letty came to the ministry. She thanked Dennis and Cha Wallace, Irene Jensen, Teresa and Gordon Skinner, Kathy Smith, Veronica Sanchez, Lucille Delnevo and many others who were present, for obeying the Lord and praying, because it was those prayers that Letty can stand where she is at today. It was a fun, beautiful time and the people really enjoyed hearing from our three women.
Michael Waldrup gave a powerful word on why Isaiah had to go and cry aloud as a trumpet, and how we are meant to be a blessing to others. He also briefly shared on how Isaiah 58 has worked with him in the ministry God has given him, and shared in the different areas God is using the ministry to reach the people of Mexico. Sister Amy Wang came and spoke on what Isaiah 58 is in her life and ministry, and had us shaking with laughter and brimming with tears as she shared her powerful testimony.
On Sunday, the last day of the conference, there was foot washing and prayer that was held for Larry Robinson. God's presence came down in a powerful way, touching both Larry and all who were there. We also washed the feet of one of our youth, and had them stand in as we prayed for all the youth, both past in present, in our ministry. It was incredible time of healing and ministry with our Lord.
It wasn't all just lecturing and sharing. Teresa Skinner armed our guests with some practical but powerful information on using strategies in missions, networking amongst each other and using social media, blogs and graphic design as tools to further the Kingdom. She taught on digital care (maintaining electrical equipment) and basic computer tips and "how-to" for those who wanted a better grasp on navigating this high tech world we live in, and using it for the Gospel. Gordon explained about disaster relief and the church, how God's people should be prepared to minister to those in times of crisis.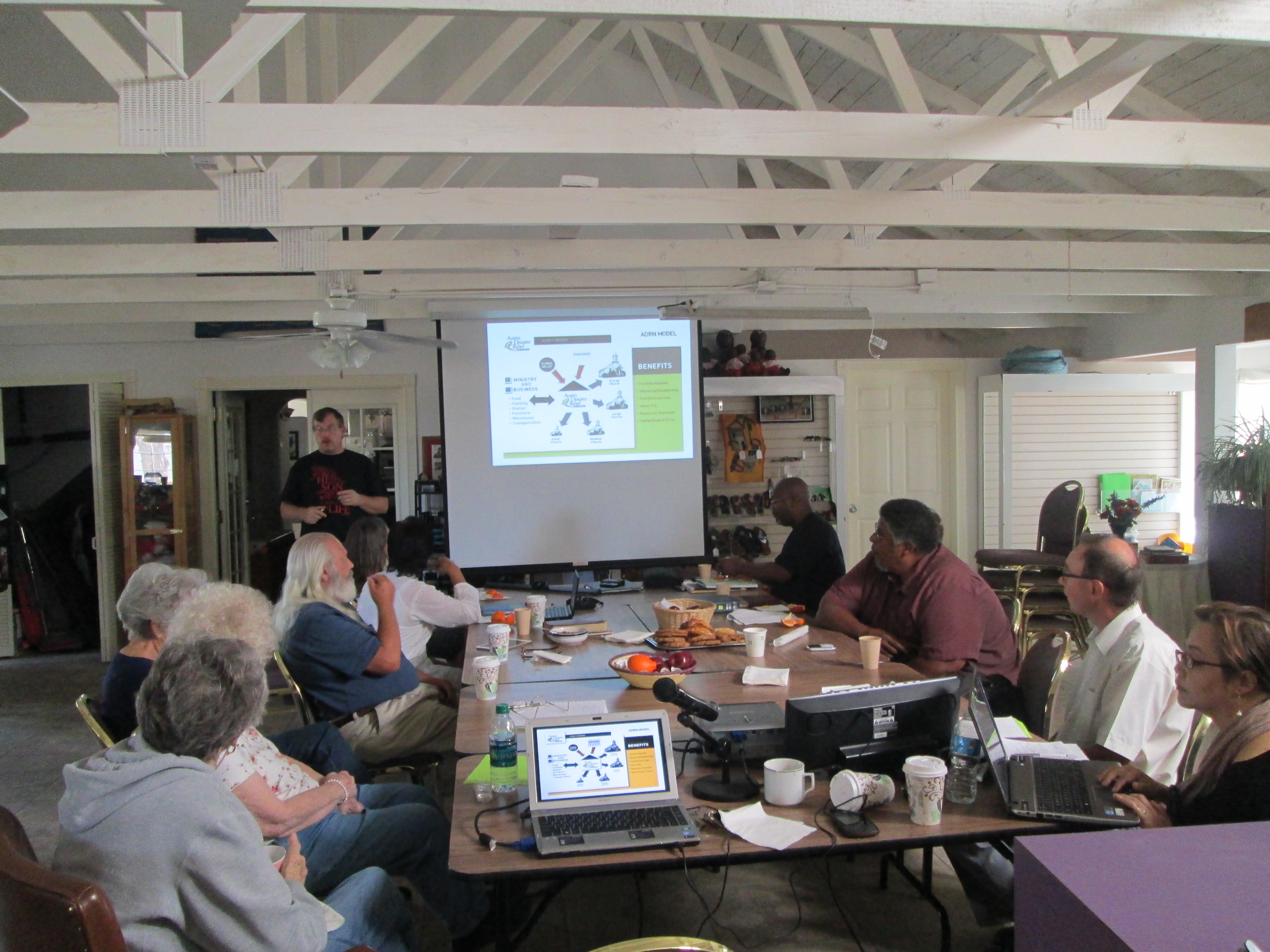 Overall, we had a beautiful time. We're so thankful for those who came and shared this time of celebration with us. More importantly, we're deeply thankful for those who came to join us in the continuing work of the ministry.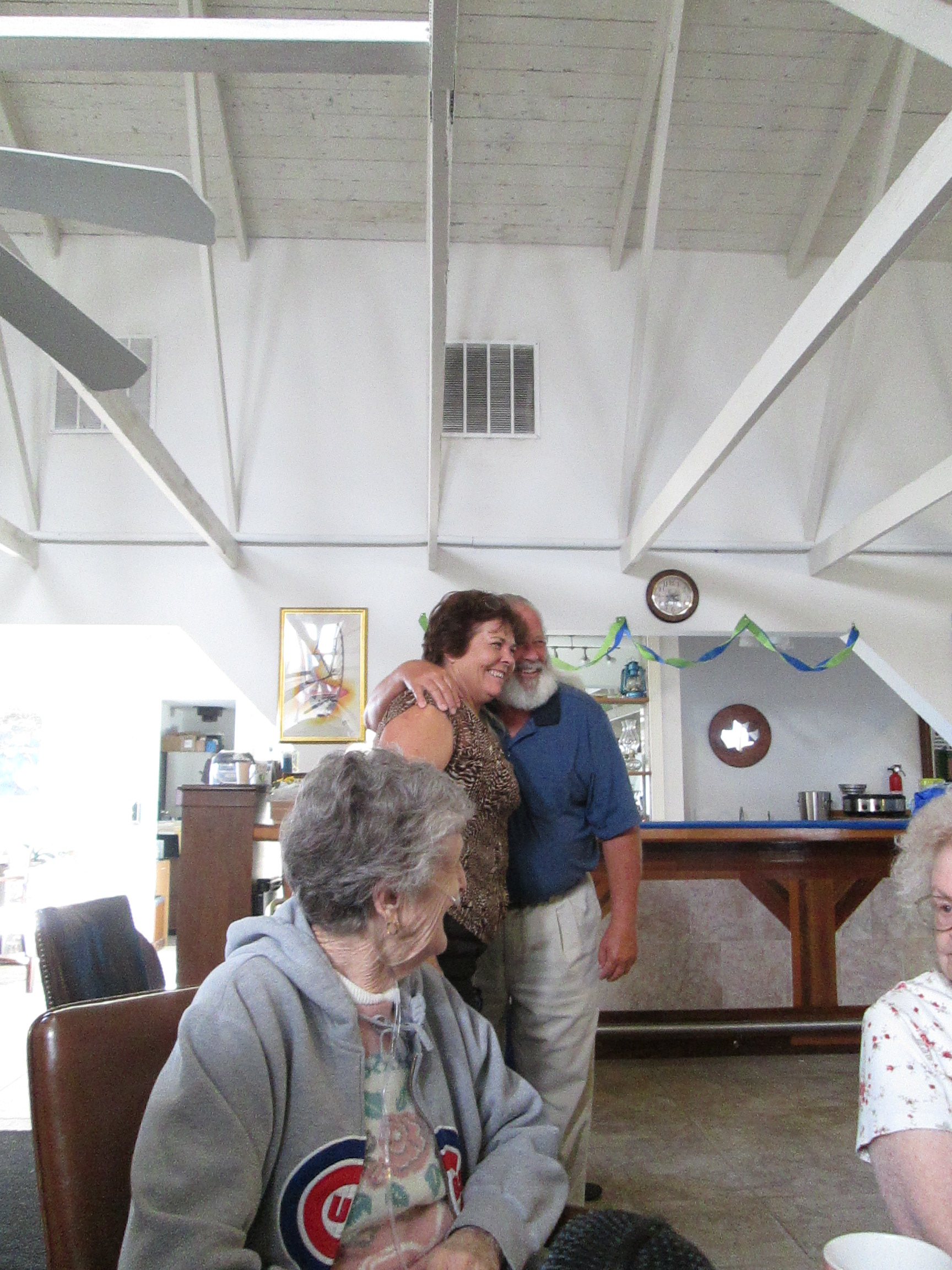 In the vein of people coming alongside us, we're so thankful for the people coming to help in His work, both longstanding and new! One thing we'd like to mention is the volunteers who came and made the Pastor's conference such a wonderful experience! Our dear, precious friend, Lucille Delnevo, came down for the sole purpose of helping us out and making her famous, delicious, mouth-watering pizza! Lucille, thank you so much for giving of yourself, just to help us out!
Two of our wonderful, caring and marvelous volunteers, Carrie Durren and Marva Beauvoir, catered all the lunches AND dinners, telling us we were only allowed to serve breakfast! The served beautiful, delectable meals, made fantastic desserts, and were all around a blessing to have! Carrie and Marva have stepped alongside us in the last year and a half, helping with cleaning, cooking, ministry, Casaq the Eagle,  even driving down to help pick up visitors at the airport. We are just so grateful for these precious women and their husbands (they help in so many ways, gardening and handy work), that we could never really express our gratitude, other than saying "thank you" over and over. So ladies, THANK YOU!
Right after the pastor's conference, we had our TESOL (Teaching English to Speakers of Other Languages). The premise goes beyond teaching English. It's taking the Bible and using it as the main tool to incorporate in the curriculum each teacher creates. The instructor taught the class how to create their own English teaching curriculum centered in the specialization each person had, such as teaching English with an emphasis on Disaster Relief, or teaching English with an emphasis on Computer Technology, English with an emphasis on Communication. The class was incredible and everyone walked away from it with a sense of excitement at how they could use this tool in evangelism.
Following the course, Teresa and Gordon headed to North Dakota for a four day teaching at the Spirit Lake Reservation, located in St. Michael, North Dakota. Teresa and Gordon taught the All Nations International Foundational Curriculum (the curriculum we've mentioned earlier in this post as well as in previous posts). They were hosted by Bernie Solwey, one of the founders of the All Nations Prayer Warrior Society. Most of the people in the class were spiritual leaders in their various circles from neighboring towns and the results were incredible.
Teresa says,
"It's amazing how, when you speak the simple truths about who God is, who is Jesus and water baptism, you see His presence come and people's live changed."
One of the remarkable stories coming from this is how a 90 year old woman gave her heart to the Lord and changed her life! Isn't that incredible?
Some other praise reports came in after they left, such as one woman who attended got her "Joy in the Lord back, and was very happy and pleased she came." A woman who came with her daughter was "freed up a bit –and was spiritually connected and she and her daughter grew a bit closer spiritually." That's something that's always a blessing.
It was a successful trip, in so many ways, and we give God the glory for how He's using us to change the lives of people.
So that puts us into the now.
This past weekend (and continuing into this coming weekend) we had our Chaplaincy Training. Teresa searched long and hard, high and low to find a Chaplaincy training that would be Christ centered and focus on certain areas that we have been feeling led to work in. And we can speak for all the participants of the class, that this course has exceeded our expectations! Chaplain Ken Schlenker, the instructor for the course, is a humble man with an incredible background.
He is the president and founder of National Center for Chaplain Development, a nonprofit 501 (c) 3 providing "practical secular community support and emotional & spiritual assistance to emergency service workers, those in crisis, society and those persons in transition by meeting their needs". Chaplain Ken is the author of the California Law Enforcement Chaplain Curriculum, "a California POST Certified Curriculum and currently functions as the State Training Director for the newly formed California Law Enforcement Chaplain Consortium (CALECC)". Well versed in scripture and Spirit-led, Chaplain Ken gave the class what he calls "a drink through a fire-hose"; taking us through the foundation and purpose of Chaplaincy, it's role and importance in various environments, introductions to various intervention tools and methods, active listening, crisis and stress management, and so much more that we haven't even delved into.  Chaplain Ken has truly been a blessing and we're excited to share more as we learn about it.
This week, the Kairos youth is coming over! We mentioned a little about this youth group who have wanted to plug in and give back to the community. We were approached by the leader of this youth group. Her heart, vision and passion for how the youth will be working in the community spoke directly to us, and we knew we wanted to help and invest in this group. We are working in this group in three main areas:
Gardening/Yard work
In the studio
Spiritual Mapping
The students wanted to give of their time and do community service work. We were more than happy, seeing as we were praying for help in that area, and more importantly (as we know many of you are very familiar with this concept), we're excited to at how their working in the natural will bear fruit in the spiritual.
As far as studio work, based on their desire to reach out and make an impact on the community, the group will be planning, creating and producing radio commercials geared towards the youth and some common struggles facing them in their daily lives. The commercials will be 30 second spots that will present a small skit depicting a certain issue with scriptural emphasis (much like those heard from the NotReligion.Org ministry). We're excited to hear the results and share them with you!
Teresa has been working with Kairos on the principle of spiritual mapping. The goal? Have the group design and implement a plan to pray for the schools in the Lancaster area. In just 10 short minutes, the group was able to locate each school, create teams, assign schools to said teams and discuss their prayer walks! Teresa said it was one of the most incredible (not to mention efficient) things she had ever seen.  So this Thursday the team will come back and continue work in the Gardens and the Studio.
In other news, be praying for us as we prepare to minister Casaq in the Antelope Valley as well as in Los Angeles. We have had some incredible doors open for us, by His mercy. On Thanksgiving Day we will be presenting the play at Total Deliverance church to several hundred people. The church will be serving Thanksgiving Dinner to the homeless, so once every hour we will perform the play for the people as they finish their meals. The following Saturday, we will be doing the play entirely in Spanish (no English translation- a first for the cast) at an outreach event in downtown Los Angeles. We're so excited for these ministry opportunities, and ask you to join us in lifting up the cast and crew as they prepare.
We thank you all for being with us, praying with us and just loving us through everything. We love each and every one of you! Tell us, how can we pray for you today? Send us a comment right below this post,  or send us a message via Facebook, telling us how we can pray for you and your family, or someone you know. May God bless you!
With much love from,
Your All Nations Family