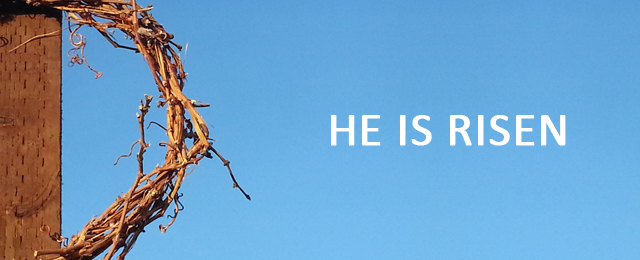 Peaches, Sunrises and Easter
Hello family! Interesting title, no? It's snippets of what this blog will be about, and yes, peaches were involved in this week's update. You'll just have to read on to find out why! 😉
What else is interesting is that many of you will have received this blog via email! Thanks to MailChimp, we are able to send these updates directly to your inbox-es, for your reading pleasure! 😀 If you are not receiving our email updates,
Well, it's our hope and prayer that each of you had a wonderful Easter. We know we did. Before we get into the Easter activities, we have an incredible testimony to share.
Teresa Skinner was heading down to Indio, where a very sick friend of hers lived. Before leaving, she had wanted to bring a small, orange Gideon Bible to give them, but forgot to put it in the car. As Teresa and her friend were visiting, she asked them what it was they wanted, and they answered peaches and a Bible. So off she went to get the peaches and bible. Teresa said she felt the Lord tell her to go to a specific store, and there she would find both Bible and peaches. Peaches she found, but the sales associates told her that they didn't sell bibles, perhaps she could go to the nearby Walmart and find what she needed. As Teresa was paying the cashier for the peaches, one of the store managers asked the cashier if they had a Bible. Off ran the cashier, and returned with a Bible! The store manager was herself a Christian and without hesitation, asked Teresa's friend needed a visit from the pastor, and both ladies exchanged numbers. Leaving the store, Teresa said she laughed to herself, because the Bible the cashier came back with was a small, orange Gideon Bible, just what she had wanted to take! Teresa said that later the store manager told her that she felt the Lord tell her to find a Bible, even though Teresa had never asked that particular manager! Isn't God wonderful? It's a blessing to know there are those who hear and obey the voice of the Lord. Hallelujah!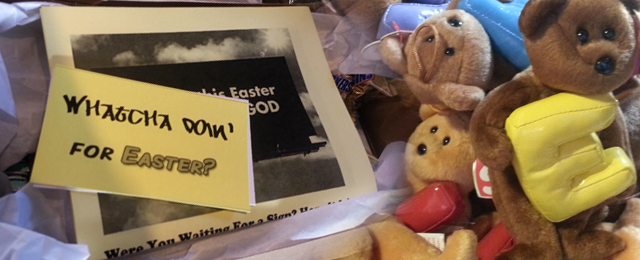 Right before Easter, God put on Rebekah Minters' heart to pass out Easter Baskets. God so wonderfully provided Candy, Perfume Packs, Stuffed Bears and Snack Bars along with invitations to Easter Services at local churches. With Rebekah's own style of Whatcha Doin' for Easter, people were moved to have the Love of God shared to them through Easter Baskets. Saturday evening Rebekah, Crystal and Ashley distributed the baskets to the homeless and underserved of our community.
We actually have another praise report to share. The Lord really did an incredible miracle for us. There were certain things that we had been praying to the Lord for Easter dinner, such as salads and desserts that the Lord so graciously brought in, down to the bread we used for communion! It was wonderful.
There was something very special about this Easter wasn't it? This Easter, we had an absolutely beautiful sunrise service, along with some of our family. Marva and her family were present, as well as Carrie and her family. Kevin and Sarai Johnson as well as Jordan and Michelle Skinner joined us and Leroy Strum from Canada, whose family has been our dear friends for many years.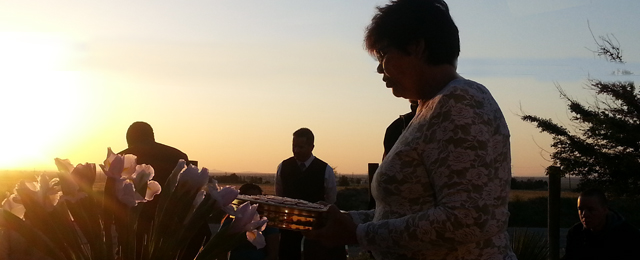 As the sun rose, we worshiped and praised, prayed and broke bread in communion as we remembered the One whose Son rose from the depths of the grave, shattering the chains of death and sin and brought new life. May we always remember that crucial point; in this world, it isn't about us. It never has been, and never will. We are shown the light so that we may in turn share it with others. It is our call, our mission, as the body of Christ, to fulfill until the day He comes.
God will always equip us in fulfilling the expansion of the Kingdom in the hearts of men. Fulfilling that call sometimes requires some skill and knowledge that we know we need to have, but are unsure of how or where to get it. God may use His Holy Spirit. However, He sometimes brings people to show us those things, and now is one of those times.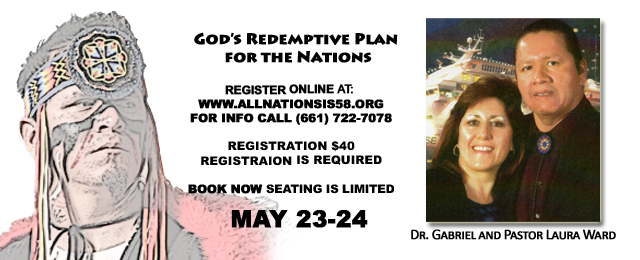 We will be holding a cross cultural seminar entitled "Native American Protocol and Effective Ways to Minister to Indigenous People Groups: God's Redemptive Plan for The Nations". Have you ever wanted to go to work with Native Americans, or indigenous people from other countries? You know there do's and don'ts, but how do you know when and how? This seminar will be an invaluable tool in working with any person of a different culture. The seminar will be taught by Dr. Gabriel Ward, and will be two days, with morning and evening sessions. Visit our site to learn more and register for the event. Seating is limited, so don't hesitate to register today!
Be sure to read this week's message entitled "A Full Surrender":
"Everyone that lives here, God has called us to a walk with Him, to learn His ways and to let go of our own ways.  We aren't here for our own pleasure, but we are here to please Him.  We are here to have ears to hear and a heart to obey His voice and walk in the way that He has called us to walk.

 I thank God for all of you.  Thank Him, this morning, for His provision.  I thank God for you who don't live here; because, for many years, you have been with us and prayed for us and helped us and who carry a vision in your heart.  God is going to honor you with your faithfulness in all things.  I feel God is saying, "It's time to arise and go forth.  It's time to say, 'Yes, Lord, I want your Spirit in charge of my life.'"