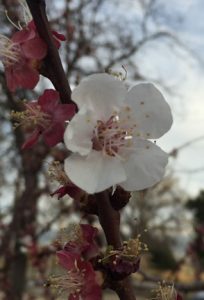 Hello Family!
Spring is in the air, even if it is a tad early… it's showing signs of spring everywhere!
Spring is a beautiful time: a time of new life, growth, refreshing, awakening. It's most beautiful to see it in the hearts of people. January and February we had two students visit from South Korea for an English immersion program. Thanks to our TESOL training, Ashley Flores gave TESOL classes to advance their English speaking skills. Mother Jennene also helped by encouraging the children to speak and listened as they went over their daily topics.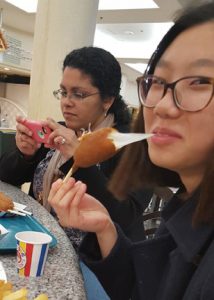 At the end of her stay, one of the young ladies gave her heart to the Lord! She said "I grew closer to Jesus. And now, I read my Bible because I want to!" It was beautiful to see the outward manifestation of a beautiful heart change within. Thank God for the opportunity to demonstrate the Love of Christ to the young ladies.
We had two youth nights where about 20 children were able to eat pizza, watch a movie and see the new "Creation Genesis" video created as a part of our training curriculum. The children really enjoyed it! One child enjoyed it so much, that she asked Teresa if she could take a copy home. She loved the movie and watched multiple times at her own house. She invited her friends that she knew around her area, and not only that, but petitioned to her teacher to show the film in class! Now how is that for sharing? This precious young child caught the vision of how magnificent our God is and wanted to share Him with her school, a public school. How many of us would have her tenacity?
Roland and Linda Beard came to visit us for a few days before their trip to the Philippines. Roland was able to show our Korean student the stars, their names and their positions, through a high powered binoculars. This was truly a demonstration of God's creative genius. The young lady was astounded; she had never seen the clear night sky!
During Linda's teaching days in the Philippines at the Institute of Foundational Learning (IFL), she showed the video to several classes and the children really enjoyed it! Roland and Linda were able to spend lots of time with the teachers and children, ministering to them through classes and fellowship, and enjoy their time with Rev. Pat Capwell and the IFL Staff. check out their Facebook page and website: http://www.cwm4him.org/ . We appreciate all that Linda and Roland do for the Kingdom, their selflessness and faithfulness to the Lord.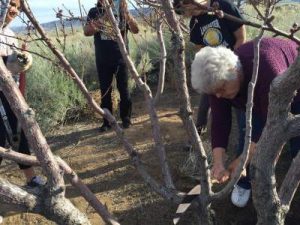 We appreciate Barbara Frazier and the Lancaster Interact Club for being available, willing and helpful! Interact planted more than donated trees! Like always they went above and beyond. Thank you for helping!
We are excited about the nearness of the curriculum being complete! From the time of our last post, we were able to send our first prototype iPad and it is working well. Our target date for completing the curriculum is mid-April.
In all of this we know you, our family, are working right alongside with us. Your prayers and support are just that: co-laboring with us. Thank you so much. Until next time.
Love,
your family at All Nations