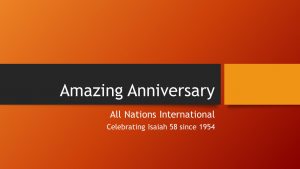 Happy Anniversary!
What a wonder and privilege that we as a family, have been used by God these last 62 years for the glory of His kingdom.
Saturday, October 15, we held the 62nd Anniversary and Volunteer Appreciation Banquet. Our theme was "Amazing Volunteers" …truly we have some of the most amazing, dedicated beautiful volunteers!
What we do is accomplished by the power of the Holy Spirit and faithful, dedicated and excited volunteers. Many came together to set up, cook, serve, and clean up. The flow of the Spirit that was reminiscent of the "old days", a flow that brought His joy, love and unity. Kathy Smith, Ashley Flores and an amazing team did a beautiful job cooking and serving the meal. It was a beautiful time.
Here are some highlights of the evening:
Carrie Duren was awarded Volunteer of the Year. This last year was difficult for her, as she fell on one of our mission trips to Montana, and had to wait all that time, until now, to have surgery for it. In that time, Carrie has remained available to travel, cook, clean and minister whenever the call went out. Thank God for her love of the Lord and her faithful willingness to serve.
Teresa Skinner shared about the Isaiah 58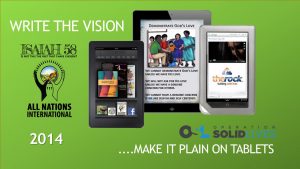 Mobile Training Institute. Two years ago at our Anniversary, we shared the vision we felt God placing on our hearts for the mobility of the Gospel by using Rev. Agnes' training. The concept we spoke of was to have a curriculum on a smartphone or tablet that would be easy for locals to carry and teach with simplicity in their villages and cities. The training would feature messages of Rev. Agnes, leadership principles, natural and agricultural manuals. It would be more than just an educational resource, but a timely and effective  discipleship tool that would fit in the palm of your hand.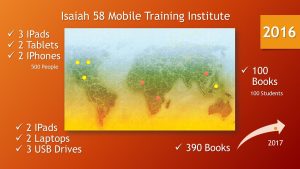 This year, the Lord has propelled MTI (Mobile Training Institute) in a rapid, beautiful way. As you can see in the image above, we have sent the curriculum to Asia, two locations in Africa, and locally in the United States. Next year, we're expected to have 390 copies of the manuals printed, increasing our reach and impact. The need for young, willing men and women is great. Volunteers who would allow the Holy Spirit to use them as a propeller of the Gospel in existing areas, and as planters in future places.
We honored our brothers and sisters who have ran the race and are enjoying their heavenly reward. These precious people who labored with great love for His kingdom have each left behind a legacy of Godliness, faithfulness and perseverance.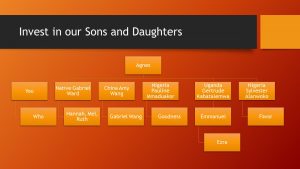 Part of continuing their legacy is moving forward in completing their visions. One such vision is Sister Gertrude's school, Nyamabuga Primary School. As of right now, when visitors come, they stay in the local hotel near the village. This means money goes towards the nightly fee for the room, meals, food outside of the hotel and the fuel for driving to the school and back each time. The figure easily runs about $1,000 per person! But what if, instead of paying for a hotel and meals, there was guesthouse on the school grounds, where visitors could stay in comfort and security? What if the money saved could be invested into the school, for further growth? Teresa presented this challenge at the Anniversary. Could we build this guesthouse? A guesthouse means visitors spend less time traveling and more time at the school, interacting with the children and being invested in the work at the school. The school compound is gated and guarded, in addition to it being removed from the village, which means peace of mind, quiet and safety. A team of young people have already been trained in proper sanitation, food handling and serving, so guests enjoy each meal and stay healthy. Teresa is encouraging everyone to see how they can be a part of this work.
Many of our Pastors are like Paul's, passionate for the Gospel, eager to mentor and pass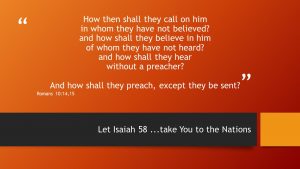 on the wisdom God has given them. For many of them however, there are no Timothy's being trained for the future. There is a need for willing servants. Young people who would intentionally walk alongside these men and women of God, receive the impartation of His Spirit and continue the work.Teresa asked those in attendance how they felt God was leading them to change that. Now more than ever, it is imperative that this Gospel be preached without delay. Without a clear vision, how can any person fulfill the call of God on their lives? The time for action is now, and God's people can no longer be satisfied with living an unfulfilled life. We are only happy and content when we do the things we were designed for.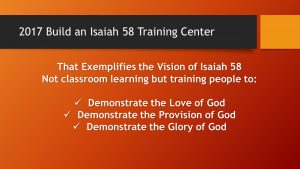 Another area Teresa spoke about was a vision that has yet to be seen to completion, a vision that burns bright and clear. To have an Isaiah 58 training center. A place where people can come to be sent. Where impartation is the preferred method of teaching, and application is the evidence of a lesson received. Where the broken become the Bride, immersed in a fasted lifestyle and working in the harmonious dual language of the spiritual and natural. Who will go? Who will step out and boldly pursue the Gospel?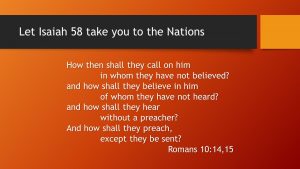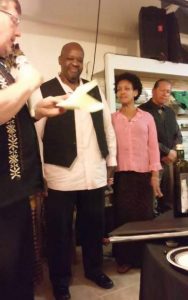 At the end of the service, we ordained two new pastors, Mark and Tracy Vaughan. Last year, when we were ordaining and licensing the Pastoral Class, they felt like they were not ready. Mark and Tracy are the founders of Love On Purpose, a local outreach that services the needy and homeless. The Lord is using them in marvelous ways here in the Antelope Valley, partnering with local and government agencies to service the homeless.
They felt that now was the time and we are so blessed to have had this precious couple working with us and we are excited at how God will continue to use them as they take this next step of their journey.
We are so thankful for our family. We pray that as we enter this new year as a ministry, that we would continue to move forward in the work God has placed on our lives and hearts. That we would accomplish the tasks set before us, so that those around us can have a tangible encounter with His love, glory and power. And that we would forever remain a servant to God and a servant to all.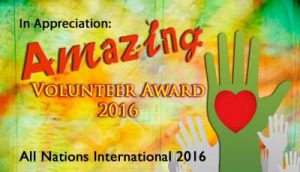 In His Service and Love,
Your All Nations Family