Book Publishing
We have been publishing books all year and you can buy these eBooks and printed versions on Amazon or Apple Books and in some Brick and Mortar stores like Walmart and Barnes and Noble.
Here are some books that we have recently published:
My Deepest Heart's Devotions – the Diary of an African Woman
by Gertrude Kabatalemwa
This is a devotional series that journeys into the heart of Gertrude Kabatalemwa. This profound 6-part series preserves a rich legacy. It gives a glimpse into the extraordinary relationship that she had with her Lord, a relationship that inspired countless people and will continue for generations to come. Experience the heart of Gertrude Kabatalemwa, as you read the journaled revelations God gave her in her daily walk with Him.

"I lived on hope… when the Lord kept promising me that He was the only one who was going to return my son Peter, who was kidnapped… It is hope which kept me going."
Buy these books now in eBooks or print:
Good Ol' Rodeo Days
by Billy Dean Kloehr
Back in the 1950's lived four kids who thought they were old enough to do most anything, including ride the Rodeo. They all had great aspirations of being the next Casey Tibbs, all-around champion cowboy. Follow their story as they encounter mishaps and adventure in their quest to "ride horses and act like cowboys".
Available on Amazon
I Know What It Looks Like: But I Choose to Believe God
by Evelyn Cartwright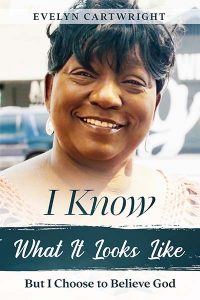 Our friend Courtney told us about a woman who has a remarkable testimony. We have been privileged to help her publish her book which is now available on Amazon. It is an encouraging book and a quick read.
I had an illness and… at some point a decision to totally trust God with your life has to be made. Will you choose to believe what God's word has to say about what you are facing or will you choose to believe other sources? Going through my challenge believing God and what his word said rather than what circumstances projected was my choice. – Evelyn Cartwright
Available on Amazon
Papa Tom Muffler Barn Kitten
by Wanda Robinson
Looking for a good Children's story? We were blessed to help Wanda publish a children's book.
Enjoy the beautiful way that Wanda Robinson captures memories and stories about her father Papa Tom on the Farm. Complete with unique learning points, children of all ages will enjoy reading this Papa Tom series.
Available on Amazon

Coming Soon: "A Study of God's Creation – Filled with Purpose, Direction and Consequence"
by Roland Beard
Roland Beard is publishing the second edition to his amazing curriculum about Creation. This second edition will be out this year and available in print and eBook form. We are honored to be a part of it and will let you know when it is available.
Do you know where you come from and why you exist? Basic questions like this arise in adults but especially in young people. Answers from the Bible lead directly to the question of origins and what happened at the beginning. Did a cosmic undirected bang or the conjectured 'multi-universe' lead to our existence, or did it have everything to do with the actions of Eternal God and what the first humans did? This curriculum addresses the biblical view of creation, while comparing and – or contrasting it with the dominant naturalistic (there is no God) view. Ramifications of these two world views will be covered as they affect history and sciences as typically represented in secondary education books and courses.
Do you have extra time on your hands and a story to tell? Maybe this would be the time for you to publish your story.