The year 2017 launched a major shift for All Nations International. After 63 years of being in California, God moved the entire ministry to Arizona.
We're so thankful for our wonderful family that spans across states and countries. Through our transition, our curriculum, and moving forward, we've done it together. Thank you for your love and support.
Before we moved, many received the impartation of Isaiah 58.
Here are some stories: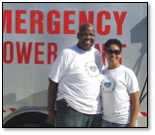 Mark and Tracy Vaughan, founders of Love on Purpose, spent two and a half years at All Nations. After they received the Isaiah 58 training they were ordained as outreach pastors. A few months ago, the only shelter in Lancaster, CA closed down. Mark and Tracy with the Salvation Army, were asked to help facilitate a new shelter. The Vaughan's have put together amazing programs for the homeless and are seeing God demonstrate His love, His power and His Kingdom to this people.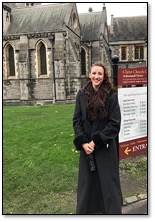 Crystal Montague is studying with All Nations to be a minister. Recently, she was blessed to join an e3 team to Ireland and this is what she shared:

Last October our e3 team spent 5 days in Lisburn and West Belfast partnering with Transformation Centre, Lisburn.
 In those 5 days:
We met 215 people who did not want to hear
Prayed with 122 people
Shared the gospel with 167 people
Trained 55 believers 
Had 90 people who either wanted to know more or said they now wanted to follow Jesus (65 took gospels of John so they could find out more). 
Had 30 people who provided contact details for us to meet with them for more prayer/gospel sharing/discipleship.
February was Africa month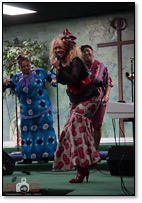 All Nations joined with several churches and organizations in Lancaster and Palmdale for the Better Life in Africa Concert and Marketplace. Proceeds went to Pastors Sylvester and Mary Alanwoko in Nigeria. Thanks to Kim Watson, LaQuenta Wooten, Pastor Dorelle Arnwine, Bishop Henry Hearns and many more, this concert was a success and encouragement!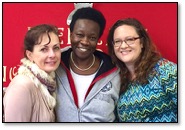 Clare Businge, from Uganda, East Africa, daughter of the late Gertrude Kabatalemwa, was able to get a VISA to the United States!
Clare traveled to six states, sharing the progress and future of the Nyamabuga Foundational Schools, encouraging those who knew Sister Gertrude, that the work with the village children would continue.
Off to Arizona
March and April were spent packing and unpacking! Many volunteers came to sort, pack, clean and load. When we arrived in Arizona, friends flew half way around the world to help unpack, clean and even help set up our garden. We're so grateful for everyone who volunteered!
"Make me a disciple who makes disciples."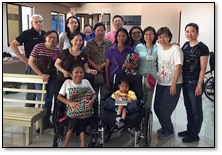 God showed His Father's love to the Philippines last April, when Dr. Lilibeth Say and the Wheelchair Harvest Project team distributed 200 wheelchairs in 8 different sites in Davao, Philippines. Parents and family members carried recipients as far as 5 hours to receive a wheelchair. Many received wheelchairs for the first time in their lives.
Wheelchairs were fitted to the recipients and locals were trained how to maintain those wheelchairs. Many received therapy, Bibles and a book by Joni Erickson Tada. A motivational speaker who has spina bifida shared how recipients could overcome disability shame, through Jesus Christ. It was hot and humid, with earthquakes and civil unrest but it was worth it all to see faces of parents and recipients able to receive a wheelchair, for the first time. God was our banner! The Lord came through.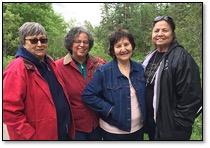 May was Breakout month, we joined with Gabriel and Laura Ward, Marilyn Bread, Bernie Solwey, Bruce and Marsha Bonfluer for conferences on Reservations in Minnesota, North Dakota and Nebraska. The All Nations Prayer Warrior Society met together and prayed at Lake Itasca in northern Minnesota. Praise God for allowing us to participate in what He is doing by His Spirit in the North!
And this Gospel of the Kingdom shall be preached …as a witness.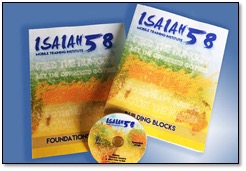 We all remember, in July when we unveiled the final version of the Isaiah 58 Mobile Training Institute curriculum to our family and the response was incredible! 325 books and 7 nations later, the curriculum is being taught to many people. This is a major breakthrough with the advancement of God's vision of Isaiah 58 around the world.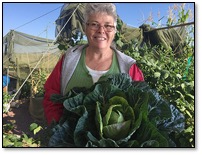 Our garden flourished with God's provision and Annella's care! For having started the garden rather late in the season, we saw an abundance of vegetables, herbs and so much more. God blessed far greater than we expected, we had enough to share with our neighbors.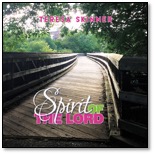 Teresa Skinner released her first album in over 10 years! It was a challenge because she lost her brother when she began recording and her father when she finished the recording. But God is faithful. And we are confident that this album will minister to you. It is available on Teresa's website at www.teresaskinner.com and Amazon.
Building the workshop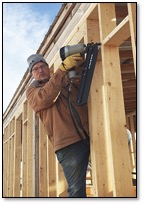 September, Gordon began construction on the workshop. God blessed us with John Nanke, a local contractor, our neighbors Jim and Alan, some local men, as well as Virginia and Albert Duenez and their grandchildren who came to volunteer.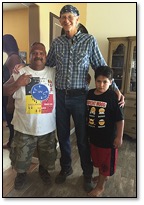 Our neighbor Jim has really been a blessing, whenever something is too heavy for one man, Jim is here to help. Thank you, Jim!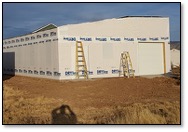 Line upon line and precept upon precept, please continue to pray for Gordon's strength, so that he can finish the building before the weather worsens.
Living Water in Nigeria
October, Gordon went to Nigeria with a team of men who helped sponsor a well in a village in 2007. Since the well has been in operation, young children stopped dying from water borne diseases. Now, ten years later they are bringing Living Water to the same village!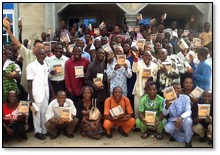 What a powerful time where God revitalized 375 pastors. The team purchased more than 200 Thompson Chain Bibles for the pastors in the village and in the city. Our West African Regional Director continued the program with a second seminar in December. February 2018, the Isaiah 58 Mobile Training Institute curriculum will be used for the third training seminar for the village pastors. Please contact us to help sponsor curriculum for a village pastor.
We cannot share this excitement with you without mentioning a key person, our precious brother Tom Dolezal. For many years, Tom worked his main job, as well as several other jobs to donate funds so that the beautiful training center would be built, where the team stayed and ministered comfortably. A few months ago, Tom Dolezal was in a head-on collision with a truck and almost lost his life. He is recovering but still in critical condition. Tom, thank you for your sacrifice. Please pray for a miracle for Tom.
Quote from our Regional Director: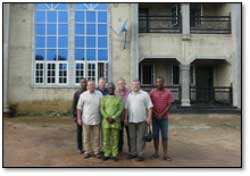 "In all of my years of ministry I have never seen anything like this. It is so wonderful and impactful. The church we used was packed full and overflowing. We had to hire more chairs! This is the peak of my ministry. If you could have been here you would be crying for joy for DAYS."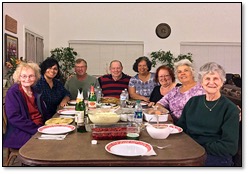 November, Ken and Dorothy Huston, Agnes' Numer's niece, visited. This is a special memory we will always treasure. God spared their lives during the recent hurricanes in Florida. During the hurricane, Dorothy stayed in touch with us. During the night when we could pray no more, friends in India continued praying for until the next morning. Ken and Dorothy shared their beautiful testimony with us.  We celebrated an early Thanksgiving, with delicious cooking.
Flight to Uganda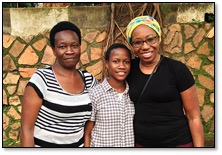 Early Thanksgiving morning, Teresa, Ashley and Kim Watson, founder of ProjectJoy flew to the Nyamabuga Foundational Schools in Uganda.
This trip was unique for Kim because it was her first time overseas. Kim wrote the hand washing song we use to teach the students sanitation. It was a special for her to meet the students and teachers, and see first-hand the beauty of Uganda.
Director Emmanuel Mwesigye informed us that 100% of the student's meals and milk are provided by the School Farm! So much corn was produced that it must be stored in multiple locations. The mill works well and grinds the corn to make Posho the staple food.
Teresa Skinner sat with director, Emmanuel Mwesigye and the teachers to discuss areas of training that they felt would be beneficial. Armed with this information, Kim returned to the United States and contacted professionals and individuals who want to help. We will return in 2018 with a training team.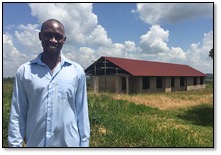 The Lord gave Emmanuel Mwesigye wisdom how to make Secondary School building functional, which had been sitting untouched since Sister Gertrude's passing. Pray that by September 2018, they can accept Secondary School students.
Continue to pray and support NEEPUganda and the Nyamabuga Foundational Schools.
Christmas Season
Distribution of Rice and the Gospel to Widows in Nigeria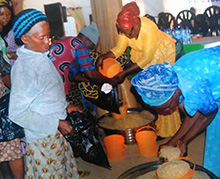 God moved marvelously the day after Christmas, when Pauline Maduakor shared 37 sacks of rice with 410 widows. Each woman received about 10 pounds of rice.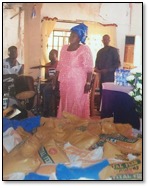 Sister Pauline said, "When I realized that many were here for the first time, I shared the Word of Life to them all.  Very many of them raised their hands to receive Jesus and I called them to the altar.  Almost all of them came up.  We prayed for them.  They were very, very happy.  They were more than happy as they thanked and worshiped God."
Christmas time is always full of activity. Gordon went to California and brought back gifts for the Christmas children's program at Living Faith, our local church, where they served 120 children. We were also sent gifts to the Navajos!
We had an invitation to a neighbor's house for dinner and Christmas caroling. What a special evening! We are grateful for such a loving group of new friends. What a way to end the year!
We are spread around the world, yet we share the same vision: demonstrating the love of God and His Gospel to the nations. To our family, the old and the new, thank you for making this year a beautiful one.
From our home to yours, have a blessed New Year!