Hello dear family!
We are happy to share some news with you from Africa! God is doing a work there and we couldn't be more excited!
Pastor Sylvester and Pastor Mary Alanwoko have been visiting us from Nigeria. Pastor Sylvester and his wife have a beautiful training center in Nigeria, which was completed last year, where missionaries and those helping can stay in comfort and security. They  One afternoon, Kim Watson (who helped us do the soap campaign for NEEPUganda in 2015) came to visit Pastor Mary and heard her desire: to help the poorest of the poor start their own micro-businesses and develop sustainable lives. God moved on Kim's heart to coordinate with LaQuenta Wooten and several other ladies to do a benefit concert. With only 3 weeks of preparation, more than 10 churches, ministries and organizations came together on Sunday January 22, 2016 to bring support to Better Life Africa, Pastor Mary Alanwoko's training center.
The evening began with a free concert, comprised of local artists, spoken word poets, singers and dancers. The Spirit of the Lord fell upon the people in a powerful way. Bishop Hearns received the offering and spoke briefly about his long relationship with All Nations International, and Pastors Sylvester and Mary spoke about their ongoing work with the poor in their area, encouraging the audience to come and share their knowledge with those in need. Teresa Skinner challenged those in attendance of our duty as believers to go into all the world. "Often times," Teresa stated, "it's as simple as fasting that cup of coffee from the local coffee shop. Imagine, a cup of coffee at $5 a cup, 5 days a week for a year, can cost $1,300! That's the price of a ticket to Nigeria during their low season." The stirring message pricked the hearts of the audience, encouraging them to go.
The concert was beautiful, with local musicians, praise dancers and poets performing. Angela Hearns brought her entire band and ended the concert with a bang! At the end of the evening, twelve local businesses joined together to create an African Market Place. They sold African crafts, jewelry, clothing and more. The vendors donated part of their evenings sales to Better Life Training Center.  Pastor Mary and Pastor Sylvester went from table to table, talking with the owners and admiring their wares.
The day of the event was cold and rainy, but it didn't stop the people from coming. Pastor Mary was in awe and thankful for what was accomplished. She felt encouraged about the future of the training center. Many people expressed their desire to go and train the people.
The evening was a powerful testament to what God can do through His people when they unite with the focus of Jesus and the Gospel. We are excited at what the future holds and we look forward to working with this team again.
To read more about the event, you can read the press release by clicking here.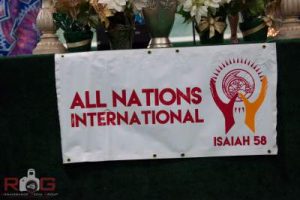 We are excited at what He is doing in Africa, and blessed to be a part of His work.
Until next time,
Your family at All Nations