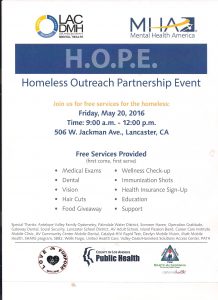 Hello Family!
We want to share with you something that is going on in our community of Lancaster. God is reaching the needy and homeless of our area, using some of our own people!
May was a busy month for Love On Purpose. Mark and Tracy Vaughn, founded Love On Purpose in 2012, with a simple goal: give away sack lunches to the hungry. Since then, they have grown, and have been caring and ministering to the mental, physical and spiritual needs of the people of the community, through Matthew 25:35. In October of 2014, they moved in and began training with us. From the moment their training started, Love On Purpose began to expand. Those who have been through the training at All Nations know this one thing: when the Lord gives the lesson, the application comes soon after! Mark and Tracy are a precious couple and it's been a blessing to see the Lord expand their territory.
The month of May is Mental Health Awareness month and the Department of Mental Health, together with various groups in Lancaster including Love On Purpose, put together HOPE: Homeless Outreach Partnership Event. Agencies like the Department of Motor Vehicles (DMV) were giving out ID cards on the spot, haircuts and check-ups were available, dental and food giveaways and more. Love On Purpose had a special table right at the front, offering Spiritual Services as the people entered. People waited in line to receive prayer and foot washing, long after the event had ended. Even after the vendors had put away their things, people were still waiting to have their feet washed! The very last person they ministered to received Christ that day! Mark and Tracy said that if the event had been just for that one person, it was all worth it.
We are excited at how the Lord is using Mark and Tracy through Love On Purpose, to reach out to the homeless, the needy, and the under-served. God is using Love On Purpose to love "the least of these" to life and give them renewed purpose, all with the Love of God. You can learn more about Love On Purpose by connecting with them on Facebook.
We love you family!
Until next time,
with love from your All Nations Family