Greetings!
July was a BUSY month! There was a lot of volunteer work, some training and ministry.
If you are following our Facebook Page (or our Instagram or Twitter pages) you'll see that we've been using this hashtag more and more: #HowDoYou58? This phrase is the brain child of Teresa Skinner, and our goal is to show various ways to do Isaiah 58. Recently, one of our #HowDoYou58? tags featured a picture of our very own Mother Jennene Jeffrey. Jennene is a woman who loves to help and isn't happy if she isn't doing something! Jennene's "58" is to serve with a  joyful heart. Over 300 of Agnes' messages have been transcribed by Jennene! She is a fierce prayer warrior, not just for her family but for anyone who comes to her. She always has a listening ear, a shoulder to cry on, and words of wisdom. We appreciate all that she pours into this ministry in prayer, in help and her love.
Virginia Russell is also a phenomenal help in this ministry. She helps edit the messages that Jennene transcribes, helps keep the kitchen and laundry area running like clock work and even cooks lunch on Monday's. She also is a faithful prayer warrior and intercessor, and the Lord uses her fingers to fight in the way of sewing! We were in need of new aprons and had some material, and once she had the pattern, she started snipping away and is now sewing the aprons as we speak! We are so grateful for these precious women who give of themselves.
We want to know how do you do Isaiah 58? God has given each of us a unique way of demonstrating God's Love to the world. Post a photo or status with the hashtag #HowDoYou58? to share what that looks like in your life!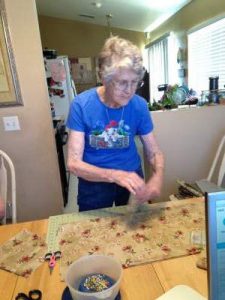 Recently, Gordon and Teresa ministered in Living Water Worship Center and Ministerio El Lirio De Los Valles. Both services were intimate, and as Teresa sang and Gordon shared the Word, the Lord's presence intensified and sweetly ministered to each person. At Ministerio El Lirio De Los Valles, Sylvia Dawn, our Filipino guests and Ashley Flores joined Gordon and Teresa in ministering at the end of the service in prayer. The Lord set some people free, gave words of encouragement and strength to the people as we all fellowshipped together. The Lord's faithfulness and Love are so appreciated, and ministers to us as we minister to the people.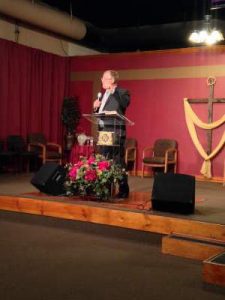 We mentioned that the curriculum was completed and already we have requests to use the curriculum in several areas, locally and internationally. God is good! The curriculum has taken hours, months of work, but as we see more and more people asking about it, and for it, we see the purpose God has for it in His Kingdom. Last week, Teresa Skinner and Ashley Flores started a bible study with a young family using the curriculum! What's beautiful about it is that through out the process of the family learning about God in the curriculum, they can in turn share what they've learned with others using the same curriculum! What's really exciting is that now the curriculum is being translated into several languages. Hallelujah! Acceleration through multiplication is what the Lord gave us about this curriculum and already we see the acceleration happening!
This month, Love On Purpose headed by Mark and Tracy Vaughn did their Saturday give-out. Ashley Flores went to help out and hand out the various groceries. On this particular give-out, there were seven different bags of food items, drinks and vitamins that those in need could take. That means each person could take SEVEN BAGS! Tracy and Ashley shared their testimonies, and after prayer, distributed the food. Isn't it beautiful?
God has placed Love On Purpose in a unique position in the community. Working together with the Department of Mental Health, Antelope Valley Partners for Health and other local organizations, they had a backpack giveaway for children on Saturday July 30th. There were a myriad of services offered to the families: backpacks full of school supplies, snacks, food, various vaccinations and medical services and more. Love On Purpose was on hand as the Spiritual Needs arm of the event. They washed the feet of those who wanted it, and gave away free shoes. Long after the announcement that the shoes were no longer available, the people w
ere still gathering to wait in line for the foot washing. As the people, young and old alike, sat and had their feet washed, they received prayer if they so chose to. Ashley Flores along with two Filipino guests currently staying with us, went to assist Love On Purpose with the event.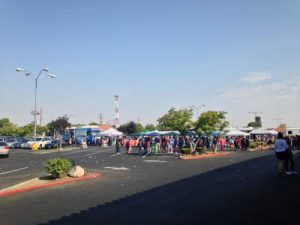 As always, we are so grateful to our family, our co-laborers for your support, encouragement and prayers. The unity we have with one another in the Spirit is what helps us achieve the call on our lives in Christ. God bless!
Love Your Family at All Nations