Spring brings on gardening juices
…and with the increasing need to have home grown "veggies" Spring Gardening classes where organized.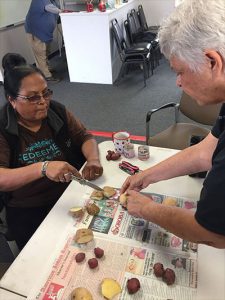 We began in Lancaster CA and then moved the classes to the Kut Poki Training Center on the Soboba Indian Reservation. Watch the video!
It's always good to have produce the first year. So, with our freshly published "Close Together Gardening" manual in hand and some innovative ideas we began. We had a great time learning about different soil types and planning gardens for each family. We started some seeds, so they would grow while the garden area was being prepared. We worked together to build two "pallet raised beds", and the next day, planted the veggies in them.
We thought this would be ideal so that the gophers would not eat everything. Sadly, the squirrels got wind that there were fresh radishes, 🍀so, 🤔 plans were made to fix the squirrels.
But the squirrels did not destroy everything, and those students that were successful are sharing freshly grown vegetables! ☺ In just six classes, we have enough produce to encourage us for next year. And, we still have the whole summer. 🍅🍅🌽🍆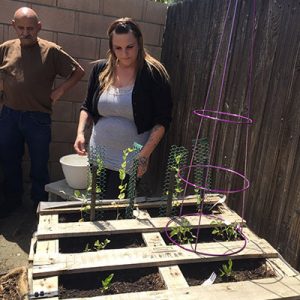 With great excitement spring classes continued… Ashley Lewis, on her own, propagated more tomato plants. At the end of the classes, I was able to see what she had accomplished, she was already using cilantro and basil, and was ready to pick the lettuce! It's always good to be able to get some produce the first season.
We remedied the squirrel and gopher problem at Albert and Virginia Duenaz's by digging a trench a foot deep, burying chicken wire and then doubling the fence above….and then we planted …all over again☺🌽🍅🌶😉
Other essential gardening practices were learned like building a compost bin. We made Albert and Virginia's out of pallets!!! Thank you to John and Robert for doing the hefty work. Record keeping is another important aspect. Keep notes of what worked, what did not work and how much was harvested. This is helpful for improvement and to see exactly how much was harvested.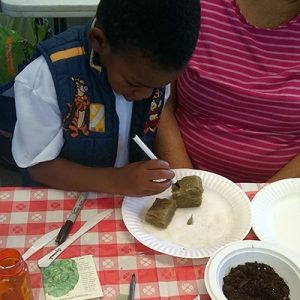 There was great enthusiasm when I showed how to do root cuttings.  The next day, John brought all kinds of shrubs for us to root. We also built a simple hydroponic system for 12 plants. Thanks again to the men for their tools and skill to put it together.
As a result of our February Networking Dinner, realizing they live so close to Soboba, Dr. Bruce McMorris and his son, joined us and prepared seeds for the hydroponic system.
Certificates of completion and participation were given.
I hope to do a follow up at the end of July!
Annella Whitehead