We have a special post this month, about our precious little General, Linda Beard. The following was lovingly written by her dear husband, Rolland. Be blessed family. – A.N.I. Family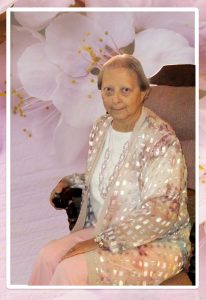 Linda Lee Beard died on August 12, 2016. Her life of love and giving on earth is over.
No more children will she help on earth; no more teachers on earth can she train; no more helps to the needy on earth can she provide.
The little bundle of innovation and energy has run out. Linda is with Jesus Christ.
Champions don't quit when they get knocked around, so Linda did not quit either. Boxes of goodies are still in her living room, which are half packed for the Philippines. Worship flags and banner parts are still being developed… Bins of goodies for teachers and children were waiting her touch to be organized and shipped. Preliminary plans for the next trip to the Philippines were already in her head. Previous disappointments were not enough to damp her desire to move forward. And, she never stopped loving people with the power and love of God. Given a chance like a couple weeks ago, she would pray up a storm over some need.
A disease in this broken world finally put a stop to what she intended to continue. Her husband's love and support was not enough to remedy the situation. The doctors' combined expertise was not enough to stop the final onslaught of disease or its path of destruction that led to the last battle in her body. Prayers of the saints helped her keep her course until the end but outright healing did not occur. Is that a disappointment? Is that the final word? No, not at all.
This champion was raised to a new place with Christ on August 12, and she left enough of an example for others to decide to emulate or ignore, but they cannot deny the evidence of what can be done if they enter the battle as she did. Her husband learned hospitality with love and power from her. Many others learned how to give and love out of their lack because of her. Many others were emboldened or empowered to move forward through resistance because of her. The people she affected are from many places. They look different and speak differently, but some of them have entered the same battleground she was on yesterday. They will take her place or have been strengthened to continue their own battles to serve the Most High God where they live.
There are others who marvel at her example, but do nothing to make their lives a similar example. Some others see her sacrifice but still won't make a sacrifice for someone else. Some others complain about misfortune and discomfort, but refuse to see past the hardship to address the needs around them as she did. Some others are choked with the patterns of this world, and refuse to consider the pattern of faith and works that she followed, which is more fruitful in God's eyes. These are the ones that will not take her place, but they will still be responsible for what they witnessed in her. Champions make you consider these kinds of things.
This little champion has been whisked up to the Commander in Chief, and she is new again.
Her example, however, remains. The work of faith continues.
Roland Beard
Husband and Personal Companion for Linda Beard for 43 years, two months, and 10 days.