What happened to "orphans" who lived in Gertrude's Kabatalemwa home in the village?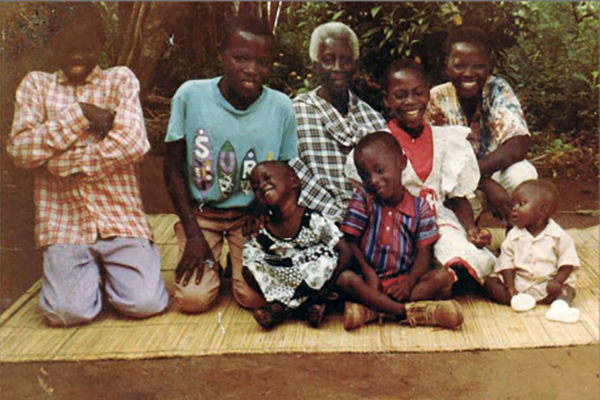 February 2020, we went to Uganda and reconnected with four of them.
Sometimes we wonder where our investment in God's Kingdom has gone. 
Without your generous donations and continued prayer, these children could have easily been lost, in a sea where no one remembers where they are or who they are.
Let's talk about Prillah
We had heard about her when she was younger, but I only met Prillah in 2006. She was 10 years old and definitely a child who loved God. Whenever we visited, she passionately worshiped while playing her drum. At Gertrude's home in the village, Prillah joined Gertrude and the group of children every night, as they marched around the compound, praying for the nations. Throughout the years I noticed Prillah only increased in her godliness and love for the Lord.
Prillah said, "I grew up without knowing my real parents. I was brought up by my grandparent (Gertrude) and it wasn't me alone, but we were many children like ten of them, and above all, she showed us love which could not let us remember our parents."
So where is Prillah now?
Prillah is in her third year of University, she's studying to be an accountant and she desires to make Gertrude proud. Prillah struggles with her school fees… Right now, as we speak, we have submitted an application for Prillah to Taylor University a Christian University in Indiana. Our prayer is that between scholarships and sponsorships, Prillah will finish her education in a Christian University.
Prillah has excellent grades and continues to love God with all of her heart.
How about Mattia?
Mattia is 30 years old and has six children.
His children go to Nyamabuga school. Mattia is a boda-boda driver. We can remember hearing the children singing that they would grow up to be a boda-boda driver. Mattia has a business and has accomplished his dream and consistently helps Emmanuel with things he might need at the school, when he's not driving.
Surprising Sylvia
Sylvia was one of the older children, she helped care for the younger children in 2006. When our team returned 2007, Sylvia had disappeared. None of us knew what happened to her.
Through a miracle of God's timing, 14 years later, we "just happened" to see Sylvia sweeping the compound outside the school yard. One of her three children were helping. Sylvia assured us that she and her family are doing well.
Remember Ezra?
Some of us remember a blog post many years ago that had one of the cows that were donated and a young boy standing next to it. Today, Ezra is 24 years old. We have seen pictures of him as a baby, he was very young when he came to the village home. Since Gertrude's passing, Ezra helped host us each time we came to the village.
It seems he has inherited Gertrude's entrepreneurial skills. Ezra grows popcorn, and then pops as many as 500 bags of popcorn a day for his vendors. He bought and leases to his brother Aaron, a motorcycle for Aaron's boda-boda business. In February we were able to give Ezra a camera and within less than one week, he's already making "a lot of money" from his photos.
Ezra attends the Fort Portal International Nursing School, several who knew Gertrude and Judi Zak continue to sponsor Ezra's education. Recently he sold the motorcycle that he used for transportation, to purchase a plot of land where he will build a pharmacy when he gets out of University in 2022.
"I have been really lost but now am found." Prillah
A New Administrator
During our last trip to Uganda, we were connected with Pastor Solomon and Pastor Dorothy Kalule of Word of Life Church Mission. When we shared with Pastor Solomon the need for an administrator in our school, he responded immediately to what he called "a Macedonian call" and commissioned the church's youth pastor and secretary, Pastor Savior Bagiye and his wife Penninah, as the administrator for Nyamabuga. We are super excited that this Ugandan church spiritually adopted our school!
Pastor Savior and his wife Penninah are a young, vibrant couple who have a deep love for children and a burning passion for Christ. Pastor Savior was not only the youth pastor at his home church, he is a secondary school teacher of Math, Science and Physics. His wife, Penninah, is also a secondary school teacher who teaches English and Swahili. Pastor Savior came highly recommended – in Emmanuel's words, "He really is a savior, like his name."
Also, Director Emmanuel Mwesigye is optimistic, happy and relieved as he spoke about the new administrator for Nyamabuga Foundational School. He believes that the children will be able to confide in and work well with the young and energetic couple. He also hopes that with their arrival, the resurrection of the secondary school is on the horizon.
Pastor Savior's administrative role in the school is a crucial one: to encourage the students and teachers, minister to them and collaborate with them. As the administrator for Nyamabuga, he will be also managing the day-to-day operations, reporting directly to Emmanuel Mwesigye, as well as assisting with the spiritual development of the students, faculty and staff. Emmanuel is excited to have someone capable to handle the responsibility of managing the school.
Living up to his credentials, Pastor Savior has earnestly resumed at work. He arrived at the school on Monday and joined the children during their worship time. In fact, he has even started a poultry project with Emmanuel. The poultry project is the new administrator's brainchild, a way of providing eggs for the children and bringing supplemental income to the school.
God, we thank You for sending this man!